August 16, 2015 12:00 am
Leave your thoughts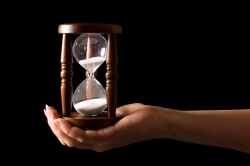 "Death is a fearful thing."
His eyes wandered across the flat lands.
Bright sunned and gentle breezed,
He walked down the meandering lane
Wondering where the thought had come from.
He smiled at the terminal preposition
And fondly remembered his English master,
Pedantic, severe, hard with a heart of pure generosity.
"Death is a fearful thing."
Thought he, looking right and then left and ahead.
As he did some thirty years ago.
He had sat by the lane and piled stones
As a memoriam to life's devilry
And love's chicanery – when she had said it.
That life was boring and can only be revived
With the purity of love – from him but not of him.
And thirty years later, she was dead.
"Death is a fearful thing."
He repeated as he sat in the selfsame spot
Looking for the stones piled up so neatly.
Beneath them a crumbled piece of paper torn out of
His 1985 diary – yellowed and almost unreadable.
Ay! "Death is a fearful thing."
He touched the pebbles and piled many again
And kept repeating the sentence about death, adding,
But her life was "a pond as deep as hell".
She had always laughed at his love of Shakespeare
And he at her innocent much cultivated ignorance;
That he loved so much…
The long lane held many memories for him
As many as the stones on either side of it.
And he raised his tired body
And walked on – suddenly full of hope.
For the lane had many many turns and twists –
And the next one he took would,
He knew,
Lead on to the Shakespearean idyl:
Wherein he knew that he were "to catch a saint".
And he crumbled the diary page
And thrust it in his cardigan pocket
To dispose of once he had found his Saint;
And he would walk on the down the long lane
Holding her hand and wondering
Why death should be so bad
Since life had itself been such "a fearful thing"…
Categorised in: Article
This post was written by Faysal Mikdadi