November 23, 2015 9:17 pm
Leave your thoughts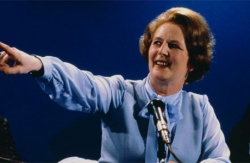 Old judges with limited brain power
will sometimes tell juries
that women who have suffered
at the hands of violent men
were asking for it
as a result of the way they were dressed.
Politicians who've known too much power
will often tell voters
that people who lack money
and want a bit from the state
shouldn't ask for it
even if poverty makes them depressed.
Now an old museum with lots on show
has quietly been told
that a woman who dressed to kill
and handbagged the nation
wore clothes that cry out for display
-we can remember her, and be blessed.
She was a conviction politician
whose words ring true even and especially
if you write them backwards:
Where there is harmony
may we bring discord; where there is truth
may we bring error; where there is faith,
may we bring doubt; where there is hope
may we bring despair. And now
she's maybe going to help us again
if her costumes fill some glass cases
just to remind us that there's no such thing
as society, just people and power dressing.
The old museum said no at first
then there were rumours of a U-turn
as sharp as the one that failed to save
the General Belgrano. Who knows
what's waiting for us on the catwalk
of history, where those who strutted,
can be brought back to life? But this
display will be a waste of time. Two
Bullingdon boys – well heeled, always
smartly dressed – have stolen the show:
discord, error, doubt and despair
are back in fashion. With a similar swagger.
Categorised in: Article
This post was written by John Lane