June 14, 2016 12:00 am
Leave your thoughts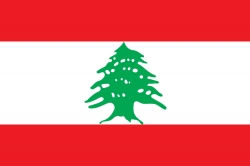 He sat before a finished breakfast and coffee,
Finished at speed because so delicious;
And spread his arms wide not in order to stretch
But to accommodate his copy of the New York Times International.
He read, also at speed, not because so delicious, but because so trivial.
He crumpled the paper and shoved it down the side of his armchair.
The magazine looked more promising with its photomontage of Beirut.
He stared at the images and read the script with mounting fury.
Orientalism had never been so healthy, alive and kicking.
Beirut is either the city of war, strife, cruelty and death
Or the megalopolis of pretty women, gorgeous colonial architecture
And wonderfully Levantine men and women of Capital.
The only evocation in all the magazine was a resplendent sliding
Slope of Cedrus Libani which, of course, Lebanon calls just 'the Cedars'
And cherishes even as she did when Solomon stole the majority of them
Leaving a few hundred that became the identifier, the signifier and signified.
He had lived in Beirut for a long long time – so long ago;
He could not remember its beginning or clearly see its end
When he emigrated to Europe because he was blinded
With eyes only for European constructs and philosophies.
The New York Times regaled its readers with the myth they wanted to see –
That figure in the Persian carpet that no one living there could ever delineate.
The journalist saw all the wonderful stereotypes that Beirut
Has been made by a West seeking entertainment at the cost of truth.
Beirut is a beautiful gem shining through a desert of violence and ignorance;
Surrounding it for thousands of years as it majestically moved on
To more diverse times, beautified by its culture, colour, creativity, craft, caged love –
A city that never lets the visitor go.
It is a city of learning, laughter, tears, strain, triumph,
Love, creativity, dizzying variety, music, eternal noise playing
By souk, beach, club, school, college and university;
By mountain top aloft its skyline to dips in its gentle shores.
And its biggest attraction, to him, are its people –
Whose zest for life is interminable, inimitable and deeper than its sea.
He placed the magazine by its sister paper's crumpled print
And sat back to enjoy another coffee as the smells of Beirut assailed his mental senses –
It was almost as if Chichester's French café were on Beirut's Corniche:
And he were to be wending his way home anon.
"Sir," said the lady across who had been surveying him read and dream,
"I am sorry to disturb you. I was at your poetry reading last night…"
Flattered to be recognised whilst irritated at being disturbed amidst his dreams,
He smiled obligingly and nodded vigorously over and over again;
Somewhat like those little plastic ducks clipped on the edge of a glass.
"Well, sir. I enjoyed your poems and I shed a tear or two at the one dedicated to your sister…"
He wanted to say 'thank you' but, duck like, he took a few more sips –
"You must love the Lebanon to write to evocatively of it, sir".
"Yes madam. I do. As you do the England – that wonderful geographical entity on the edge of the Europe…"
She laughed exaggeratedly and moved over to his table, put her hand on his,
As he speedily sipped more and more whilst he tried to release his hand
From her grip – a grip strengthened by those penetrating eyes, strong jaw and his innate surrendered desire.
And before him spread out Lebanon's inalienable beauty;
As he settled down for a promising night of a liaison with Ashtaruth,
Though, at almost seventy, he was no Adonis to tell the truth.
But then – being part a Lebanese bard – 'age had not withered him
Nor custom staled his infinite variety'…
Categorised in: Article
This post was written by Faysal Mikdadi