August 14, 2016 12:00 am
Leave your thoughts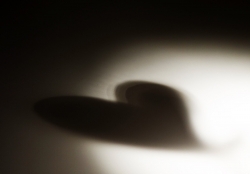 Sitting river bound by an Oxford College dreaming of yesteryears,
Leaning forward on my solid walking stick – more solid than those tired legs,
I wondered what had happened to Charles the poet,
John the Shakespeare scholar,
Dickens better than an encyclopaedia of character and plot,
Who, I remember, memory carved in a petrifying heart, had fallen off her horse and had shunted off to a better world where
Poetry was the normal way of speaking and where the angels sang for her only.
Trembling on the edge of memory, there she stood –
By the river, smiling at me through the ghost like vision.
Alison, that first love of the distant past –
Living union in our art and poetry.
We read Chaucer and I wrote such lines to her,
And she smiled and agreed under the greenwood tree
Where we planned the next hundred years
Which lasted two years and a few months.
And wherein baby Emma lived awaiting our parenthood
Till her mother's death betook her infinitesimal body the same way,
And, where, amidst my copious tears, I knew that Emma, too, was in a better place with her mother and my love:
"Er that I bigynne myn litel poesye,
Let me telle yow of an olde love merye.
She was a fresshe floure alwey smerte
Ycleped Alisoun and lived in mine herte.
Swiche beautee as the womman of my lyf
That me witen to have hir for wyfe.
And my litel poesye is the storie bigan
Of love that abydeth any pleyn man."
How we loved… No youth today could understand without its flickering screens
And short memory and attention spans.
And their heartless spin and wealth creating cynicism.
We spent every minute of our lives writing and reciting poetry.
Defining love so clumsily and garishly
But oh so innocently: love itself became a third in our partnership –
Love was our fields and trees and endless bluebells.
Love was our looks, smiles, sunshine and words,
Words that were love, spoke of love
Sang love till it became as green as our salad days.
Love was a daffodil that swayed and smiled and helped our
Minutes and hours to fly till darkness descended
And, by the river in Oxford
We kissed for so long that surfacing again gave us the bends
For its suddenness and speed.
My heart was a constant star that radiated the same wide arc of love to encompass
My beloved and hold her tight within softly whispered lines:
Love is that which we are and feel and which holds us as one
By this gentle stream each and every day.
Love is immortal and as we age it remains as youthful as our first minute so long ago.
Ah! Alison, and Alisoun on our Chaucer days,
I love that first very second of you which has vested a lifetime of such lines –
That words flow quietly like our river that never changes.
And I sat by that river reminiscing
"…meet me on 22 August 2015 by this river
If I be alive and you less dead than hitherto…
And we will, anon, anon, anon, take up where we left off…"
And there I was sitting quietly by the river
Fifty years after 1965 keeping an appointment most probably forgotten.
Staring at the ghost of a past advanced in years.
The river that, each day, has new waters and looks the same
Like our love, ever changing, refreshed, renewed but evermore as ever was meandering off far afield.
"Do you not recognise me?"
"I do. Your eyes are as young now as then
And your smile still melts my heart."
"Do you still speak to swaying daffodils?" she laughed.
"I do and they respond telling me so much
As did your arms so long ago before you went out to ride and after to the little corner shop."
"I am now back and all is as it was."
"What? After fifty years? I am old…"
"I was but ten minutes my love. Here are your cigarettes," she held the packet towards my trembling hand.
"I gave up smoking forty years ago when my children were born."
"And you still love me?" she smiled.
"As I did then still I do now."
"Do you remember our living love?" the words trembled on her pale lips.
"Yes as I do my sonnets and your gentle touch."
"We did so much that only the trees, sky and flowers did see," she whispered.
"Yes, even in the darkest nights."
"Under that huge tree casting its moonlit shadow far and wide."
"I am no longer so loose limbed and versatile."
"And in the bus stop?" she smirked.
"A race against the timetable and we always won – today the bus will come and go while we still gently moan."
"On the beach and in the midnight water?"
"What? With my rheumatism and arthritis?"
"And on the tree branch?" she recited, laughing.
"Ah! I was like a primate swinging above your beauteous body but today I would fall…"
"Come
my love. Come to me, love mine. Let me enfold you in my arms. Let us
kiss and let the years slip away back to an imagined youth. There.
There. There. The water is so fresh and so cool. And age will no longer
wither our love or diminish our passion. Kiss and breath not… I am
back. Your Alisoun. Your darling… Drown in my love…"
And
I slowly sank into the river seeing the sun spread its rays against the
darkened bank and knowing that this was Shakespeare's last death…
I
die in her spectral arms for love and will no more be that old man – so
so alone by the meandering river that has seen so so much.

Categorised in: Article
This post was written by Faysal Mikdadi