August 20, 2016 12:00 am
Leave your thoughts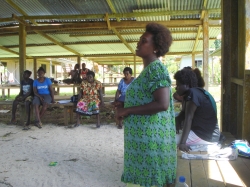 HAKO, Autonomous Region of Bougainville, Papua New Guinea –
In the northern coastal villages of Hako Constituency on Buka Island, in Papua New Guinea's eastern autonomous region of Bougainville, life to all appearances is carefree. Children play under palm trees and women gossip around market tables heaving with bananas and vegetables. In the late afternoon the intense humidity on this island, which is located south of the equator, begins to subside and the sun sets over the eaves of thatched village homes and a tranquil South Pacific sea.
To the observer, peace reigns in this corner of the southwest Pacific Islands where, twenty seven years ago, the region's bloodiest conflict since the Second World War began.
In 1989 an armed uprising by indigenous landowners forced the shutdown of the Panguna copper mine located in the mountains of Central Bougainville. The extractive venture, then majority-owned by mining multinational, Rio Tinto, and the Papua New Guinea government, subsequently became the centre of a violent civil war across Bougainville, known as 'the Crisis.'
The conflict followed years of grievances by local communities about the environmental impact of the mine's operations, with claims of mine tailings contaminating agricultural land and nearby rivers used for fishing. There was also resentment about the vast majority of the mine's profits, which peaked at about 1.7 billion kina, being claimed by the company and the national government, headquartered more than 900 kilometres away in Port Moresby. The situation climaxed when the company refused to meet landowners' demands for compensation.
Papua New Guinea responded by blockading Bougainville in 1990, and the national armed forces and local revolutionary groups battled to gain control of the region until a ceasefire was reached in 1998, followed by a peace agreement in 2001.
But while everyday life today seems normalized in Hako, beneath the surface there is a silence in communities about what happened during the civil war. People do not talk about the killings, near deaths during interrogations, or the mass graves.
"The major thing is that they [people] are traumatised….and there are some areas where the culture prevents us from talking; it is taboo," Dorcas Gano, President of the Hako Women's Collective, a local community organisation, explained.
The people of Bougainville are Melanesian and, particularly in rural areas, the cycle of life still revolves around subsistence and semi-commercial agriculture, while customary beliefs and practices frequently determine how crises within communities are managed.
Gano elaborated that it is not considered culturally acceptable to speak out about certain violations, such as rape, with many victims fearing the social repercussions if they do so. However, at the same time, the women's collective believe there could be grave consequences if wartime atrocities are not addressed, such as continuing trauma and mistrust in communities becoming flashpoints for future violence. Concerns about long term peace have motivated women to quietly confer with local leaders about the imperative of progressing truth telling and reconciliation.
It is a challenge which faces communities throughout Bougainville where people suffered wartime abuses.
"There is a lot to be done on truth telling. In the communities, especially the women would like to see the perpetrators coming out and honestly talk about what they have done," Barbara Tanne, Executive Officer of the Bougainville Women's Federation in the capital, Buka, claimed.
Hako constituency, comprising half a dozen villages and an estimated 30,000 people along Buka Island's north coast, was physically divided during the Crisis after occupation by the Papua New Guinean Defence Force. At the time, an artificial boundary was set up segregating the villages of Lontis, Lumanko, Lemanmanu and part of Tanreki, which were under military authority, and Hanpan, Eltupan and the remainder of Tanreki primarily controlled by the Bougainville Revolutionary Army (BRA).
Memories of the atrocities which followed are still distressing for many people.
"Some [people] were chopped, their hands were chopped off…..I witnessed some of the men who were hand grenaded in the bush; they carried them [the bodies] on a Sunday morning and threw them in front of our eyes near the church," Anna Sapur from Hanpan village recounted.
"There was burning of houses, stealing of property….there was no freedom to move around and to get food from our gardens," she continued.
During 1989-1990, two villagers in Eltupan were shot by soldiers and their bodies thrown over a cliff. In another incident, a paramount chief and youth were imprisoned in the village church where they perished after it was set alight and burned to the ground.
"We need a very big reconciliation to uproot and restore back peace to us. Also the missing ones, proper burials should be done," Sapur said.
There has been no official investigation into atrocities which occurred during the Bougainville Crisis and, therefore, no accurate statistics exist on the death toll or scale of abuses. But it is estimated that up to 20,000 people, or 10% of the population, lost their lives, one third had their homes destroyed, and 60,000 people were displaced. A study published last year by the United Nations Development Program reveals that about 52% of women and 71% of men surveyed in North Bougainville witnessed killings and human rights violations respectively. And more than one in three men and women in Bougainville claim there is a continuing lack of peace in their communities today.
Truth telling about wartime abuses is considered important for diminishing trauma and community divisions which, left to fester, could trigger further violence and unrest, experts say. By law, victims of atrocities have a right to know the truth of events and see perpetrators held accountable.
"I think it is not really a good thing to be silent about these things, but during human rights training [being conducted in our villages] we are being taught that we have all the rights……There is no reason to be silent. We are trying to overcome this silence," Gano said.
The women's collective, she says, is working with village leaders to encourage victims and perpetrators to begin dialogue about what really happened and achieve reconciliation through traditional methods which have been used to resolve clan wars for generations.
"Coming face to face with the victim and perpetrator, that is the biggest part," Francis Holaka, Eltupan village assembly chairman, disclosed. It is a difficult undertaking usually involving a neutral person from outside the community performing mediation and creating an environment in which the truth from both sides can be told.
The long and sensitive process finally culminates in a public ceremony, witnessed by the affected communities, where cultural exchanges between both parties take place and "if it is a criminal offence, the perpetrator should bow down to his knees and beg for mercy to the victim," Sapur described.
Hako leaders admit reconciliations will take time but wider events are putting pressure on these happening sooner, rather than later. In accordance with the peace agreement, Bougainville is due to hold a referendum on independence from Papua New Guinea by 2020. Local leaders in both Hako and other parts of Bougainville are now placing a priority on advancing reconciliation, in the interests of unification, within the next four years.
"Everyone now is talking about unity, we need to unite and walk up together, but how can we unite with someone who is not telling the truth, confessing. Unity comes after all the reconciliations have been done," Tanne emphasised.
The people of Bougainville have aspired to manage their own political and economic affairs for decades. Secessionist sentiment has been evident in the region since the 1960s, when the islands were administered as part of a United Nations Trust Territory by the Australian Government before being incorporated into the independent state of Papua New Guinea in 1975. That sentiment has not diminished since the end of the Crisis and, as the referendum approaches, emotions and expectations of political change are expected to run high. No-one wants underlying resentments and divisions to resurface at this critical juncture.
"We want a happy, peaceful next generation," Gano stressed.
Categorised in: Article
This post was written by Catherine Wilson