October 15, 2016 12:00 am
Leave your thoughts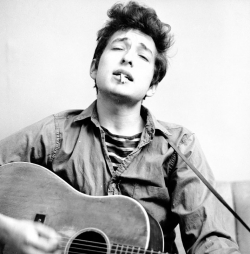 The mid-Seventies album Desire is for me Bob Dylan's crowning achievement, although I acknowledge it's a minority view. Rather than a collection of songs, Desire has the coherence of a single work. Lightly it weaves its intriguing themes in several strands, an interplay of influences. There is an agreeable equilibrium between the lyrics and the music. Desire is beautiful and mysterious, a masterwork that raises popular song to a level rarely seen.
The lines, though often memorable, may not equal the great lines of those Sixties' songs, but the sense of mastery of vision is remarkable. There is a transcendence of form so often aspired to in popular culture, and so rarely achieved.
Desire answers a criticism raised by John Berryman that Dylan writes remarkable lines without necessarily writing with the cohesion of poetry. Sadly Berryman did not live to revise his opinion, which may have been unfair. There is a sense of direction from the beginning. Bob Dylan drew praise from quarters where praise is not normally given to the words of popular song, praise from people who generally don't listen so don't know how many good words are written [as well as an awful lot of bad, of course]. Many of the good words are written by Dylan.
What makes Desire so personally appealing is its resemblance to, among other things, a book that appeared about the same time, Lawrence Durrell's Monsieur. There are similar references to Gnostic mysteries associated with Egyptian desert cults far from Western civilization. Where Durrell blends this interest with his familiar world of Provence, Dylan experiments with Portuguese fado and Hebraic melodies. According to Allen Ginsberg's sleeve notes, Dylan's purity of Jewish song is singular in the entirety of American music. The judgement is questionable to anyone who has heard Gershwin and Kern. But it is true that something in the song Sarah, for example, reaches far back into an ancient past, sacred in both religious and secular terms. It is but a step from the Dylan of such a song to the poetry of Judah Ha-Levi [which I first read, also, at this time].
The interest in Portuguese tradition arose from the revolution which astonished the world by its spontaneous and irresistible spirit. The proclaimed social commitment identified Dylan as something other than 'the song and dance man' he claimed, facetiously, to be. Very young indeed, he was writing his equivalent of Guernica in A Hard Rain, only to be embarrassed by the expectations it raised of the artist as a political activist. There were those who listened in their quest for a social prescription. They spoke casually of revolution in the Sixties. Portugal, at the margin of Europe, experienced the real thing in the Seventies, and in the streets rather than in the head.
The aura attached to Bob Dylan [something he cannot possibly have anticipated] has been something of an impediment to appreciating the enduring qualities of his art. The fans who could quote so many lyrics verbatim did so too often as a reaction against the literary culture that Dylan himself has absorbed. It is a debilitating conceit of pop culture to believe it emerged sui generis. Dylan has no such pretension. His greatness is worthy of an honoured place in the Great American Songbook, the choric and orphic oral traditions and the Western Canon. Perhaps this can be said of no-one else.
Poetry and song are discrete but not contained and exclusive categories. They have worked together for millennia. Bob Dylan at another time and in another place might have written only for the written and spoken word. That he chose music may be a matter of chance as much as choice. He sought to emulate Woody Guthrie, only to surpass him by miles. He also read Rimbaud who was more of a challenge.
Rimbaud's was a young person's art. It was soon exhausted. Bob Dylan, though not consistently great [who is?], has survived and thrived, extending the interests and bounds of popular culture to bring an authentic poetry to many who could not or would not receive poetry by any other hand. That is a remarkable achievement. It deserves the laurel crown.
Categorised in: Article
This post was written by Geoffrey Heptonstall