April 8, 2017 12:00 am
Leave your thoughts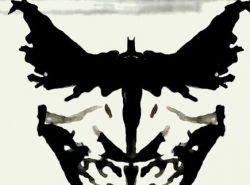 It was just over a thousand years ago that the King of England shook his piggy bank and found it full of twigs and trinkets. He needed dosh and he needed it fast.
Those pesky Danes were coming for him unless he handed over bags of so-called tribute money known as Danegeld. Tribute is the equivalent of mafia protection money: gimme some cash or I'll bash you.
This cash/bash equation forged a principle of international relations that's still a bedrock of socio-economic stability. That English king was Aethelred, mistakenly called the Unready, but actually translated from the Anglo-Saxon as The Ill-Advised.
Unlike his dad Edgar the Peaceful, Aethelred heeded his duplicitous advisers and plotted a massacre of the Danish settlers in his land. He'd had enough of paying out the Danegeld tribute to those immigrants in exchange for inward investment and divided loyalties.
If all this sounds a depressingly familiar echo of your breakfast news headlines, BBC Four's latest Scandi Thriller has been joining the dots. The gripping second series of Follow The Money from state run public broadcaster DR1, has managed what so many British and American telly-tales miss. The complexity of the main characters mirrors the intricate underlying social causes and consequences of what appears to be a tale of small-time financial betrayal. What keeps us watching over the ten hours of meticulously produced drama, is the slow spread radiating like Rorschach inkblots into more and more sub-plots and personal incriminations as the economic edifice collapses.
The series isn't the first attempt to deal with such realities unthinkable a decade ago, though it's arguably the most successful to date. Yes, earlier cinema output has sometimes focused on the social consequences of economic policies, from von Stroheim's silent Greed to Jean-Luc Godard's witty post-war tales such as Breathless, Pierrot Le Fou, and especially One or Two Things I Know About Her.
But these were few and far between, elbowed out by a proliferation of US television mediocrity.
Ever since the Big Bank Blot of 2007/8, whose recriminations still fuel economic alliances throughout the western world, the entertainment industry has attempted to construct popular film and television tales introducing audiences to a shared context. Paving the way was director Martin Scorsese's razor-sharp forensic treatment of Jordan Belfort's The Wolf of Wall Street for the big screen in 2013. Two years later director Adam McKay turned Michael Lewis' The Big Short into a film that drew unmistakable graphic connections between the global banking crisis and its genesis in the housing market. Both films used various shock tactics leavened by humour to help the lay public understand what's been going on.
In the UK, only last year's multi-award-winning BBC mini-series The Night Manager, [directed by Susanne Bier in a co-production with US cable broadcaster AMC] has unpicked so many strands of this labyrinthine capitalist mess, using John le Carré's 1993 novel as a basis for such a cogent analysis.
By contrast, most British and American populist television fare, however excellent in production values and acting talent, concentrate on a balance between the demands of police or crime procedurals with glimpses into the private lives of both good and bad guys. Some of the most iconic US shows still resonate including Cagney and Lacey, Twin Peaks, Fargo, and 24. What such shows shy away from are the social repercussions of the individual stories. The West Wing managed a hugely successful political insight, but without the populist glue of a crime thriller.
When crime drama follows the money by following the robbers, [such as Rififi, The Italian Job, or The Thomas Crown Affair] the anti-heroes are not only portrayed as attractive but are regarded as isolated cases. The same is true for the more unattractive, disturbed lone-wolf murderers from Jack the Ripper to Christie, or Dexter.
The UK has been more successful at incorporating matters of state into the mould of cops and killers, whether in a historical or contemporary context. House of Cards, Peaky Blinders, and dramatist Stephen Poliakoff's Close To The Enemy exemplifying the genre.
Nothing, however, until Follow The Money has managed to incorporate into such a popular format those solid Reithian public service values to inform as well as educate and entertain. Whatever his faults both personally and professionally, Reith understood the quintessence of democracy for the electorate. What the recent Danish mini-series understands is the lengths to which a capitalist state conspires to assure that very democracy is doomed to fail.
Johnny-come-lately to revealing his understanding of this aspect of British political life is Liberal Democrat Sir Vince Cable. The combo of his experience both within Parliament as an MP, one-time leader of his party, Treasury spokesman and Industry Minister, as well as a former career in international economics, makes him well-placed to question the inordinate delay in reporting on the skullduggery of the disgraced Royal Bank of Scotland. That scandal, you'll recall, revealed that proven viable small businesses were deliberately made bankrupt by the bank to finesse its own profits. Cable has recently admitted the relationship between the RBS tactics and the underlying causes of the 2007/8 global financial crisis. So, not an isolated incident after all.
This is exactly the premise of Follow The Money, with even more disastrous and global consequences. From the smaller but no less intriguing storylines of a car mechanic whose duty to his young wife and child is compromised by bribes in serving as a hired killer to more well-clad criminals, to the covert relationships between them and the heads of banks who manipulate their business clients into bankruptcy, to their own very hands-clean masters who seek to bankrupt the whole banking network and thus gain control of the entire economy of the state… this drama is original in every sense of the word.
It wasn't based on a best-seller, but written by a team headed by Anders August, with a seminal understanding of the unthinkable inevitability of capitalist corruption. They were also subtle enough as dramatists to incorporate the roles of flawed banking heads with drug and personality problems, a betrayed corporate legal advisor fighting for custody of her child, and the human-faced bureaucracies of the Fraud Squad whose lead detective must balance priorities of the case with his wife's degenerative illness and unexpected pregnancy.
And even when the case is finally solved, when Mr Big is brought to book and all the storylines given realistic endings, still we're left with the no-nonsense message that this is not an isolated incidence. The fact that this bombshell is dropped by the lead detective as a motivation for his leaving the force, for walking away because the problem is ongoing and known about by those who control and most profit from it, is the most searing indictment of how capitalism works on a day to day basis.
That's what governments depend on, and especially the current governments of the most manipulative countries. They want the world. They will involve whoever's available, bribable, and willing to get blood on their hands and account books.
In the sneering words of the current British Prime Minister, "Remind you of anyone?"
Categorised in: Article
This post was written by outRageous!