January 12, 2019 12:00 am
Leave your thoughts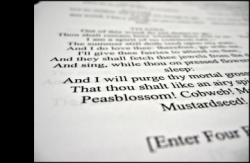 A poem, taken from Simon Cockle's first full-length collection, 'River Lane' (published by Arenig Press), about the loss of a loved one in the Great War.
The notice told he'd gone away, was lost in France
(you half-knew the truth but prayed he hadn't fallen
to mustard gas or trapped by wire in No Man's Land).
Our boy has crossed the sea, it said, to fight the Hun,
not long out of short pants, a summer shy of nineteen;
so are we desirous for particulars of our only son.
What did you expect? A sighting of a man who could
be him now fighting in another regiment or mending
in a Kentish house, all memory of who he once was
buried in French mud that was a French wood once?
You listened but no word came. Hope faded fast
and every fallen leaf a name appended to the civil list.
He never made it back or even out the ranks. He gave
his life up for the flag but his story passes down the years
so men might learn that lines on maps are only lines on maps.
A name in stone has fixed his place in history. Your fingertips
can read each letter. The dust the chisel made has scattered
but still brings tears when the wind blows from the East.
Categorised in: Article
This post was written by Simon Cockle