May 27, 2019 12:00 am
Leave your thoughts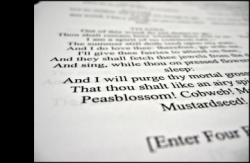 I.
Hang the buntings up high
Bedecked with colours of roses and narcissi
Across the seventy years gone by
And sing the praises of seconds as they fly
When I consider these three score and ten
I know that this first second then
Is a bonus since my lights should now dim
By God's will unless I be fully tim
So to celebrate
From morn till late
Do a jig or two
As we used to do
Maybe sing a little
In a voice now brittle
And then when done
Search again for more fun
Maybe not.
Act your age.
With wisdom.
And gentle thought. What would be best,
Is to spend a moment or two
Reflecting on how we came here.
Seventy years have brought us
To this minuscule spot soon to become past.
What is the result of the millions of
Other seconds that have cascaded by?
Show me the highlights
In these days of instant info
There is little patience for detail
II.
The highlights then in characters so few:
I remember stories
Today's books
Some poems memorised
Kindly father after
Mother went to a better place
Kindly sister
Pushed to surrogate motherhood
When barely out of childhood
Brothers who laughed
And sister who sang out
"You keep writing
You will have the last laugh"
Horrible schooling
One gentle teacher
Emma, Jane Eyre
And Crime and Punishment
Al- Mutanabi's divine poetry so meet
And ancient Arab love poems to woo by
Useless youth with much verse
And endless first loves
First Cyclamen
First snow fall
First summer warmth
First listening tree
Many many first kisses
Each more innocent than the one before
College and university
Books, books and more books
There! That was life
And these the highlights
Little to show for it
But much to be grateful for
And more to be happy about
The despair of politics
I leave out
The horror of a lost homeland
I have learnt to be stout
And pretend that it never happened
For there is little light
At the end of our tortuous tunnel
And when seen
It is a bastard flashing a light
To tell us to move on
For as victims we are guilty
Of what I know not
III.
So how come you are so contented?
Explain. Share that good fortune.
Is it wealth by stealth?
Health through love of life?
Or is it warmth within
And security without?
Last night
I heard a piercing shriek
Searching in the dark
I saw a fox
Under the maple tree
Meowing like a cat
Silhouetted against the tree
As the moon made night day
And showed us both the way
I came forward
To see what I could do
The fox limped off
Into the darkness
And let out one last moan
Reminding me of when a child
I tried to give milk to an injured cat
That refused to lap it up
As its large eyes stared up
And taught me about death
Not that I understood then
As I do that little fox limping off
And I turned and walked in
Stood in the dark for ages
Hugging a hot mug of tea
Hoping my friend would return
And, darkness engulfed, I knew
I knew where life's beauty lies
It lies within
In the here and now
It lies in our deepest
Hearts, loves and all things living
It lies in wishing to relieve our common weal
And, for me, mon ombre portée has disappeared
Into the darkness with that poor fox
And I have taken control and achieved security
Internal peace held together by
That recognition of those limitations we all have.
IV.
Health I have little,
Cash I have even less,
Friends I have few,
At our age they die they do.
Walks amongst trees a delight still
When legs have the will.
I have had many years to mere
Though years to come are now fewer.
But I do have much else
More valuable than all.
A will to learn still
That opens up a world
Of books interminable
Poems fathomless
Stories endless
And, happiness amongst the forest
Of musty papers that always do
And, more than that, not what, but who;
Enough is the love of You .
Categorised in: Article
This post was written by Faysal Mikdadi